And the color is blue!!! Our living room/dining room/kitchen/entryway are all blue now and we LOVE it! This place is really starting to look like the Clearwater Cottage that we imagined (minus the water, we'll add that eventually).
With all the beautiful new blue on the walls we started to notice the imperfections of the previous homeowner's paint job. We think their painter's tape leaked a little...
Ben came up with a perfect remedy, paint the white paint to look like wood! He brought along some of his model paints and unfortunately was out of the correct wood color, but his 2nd choice matched pretty well.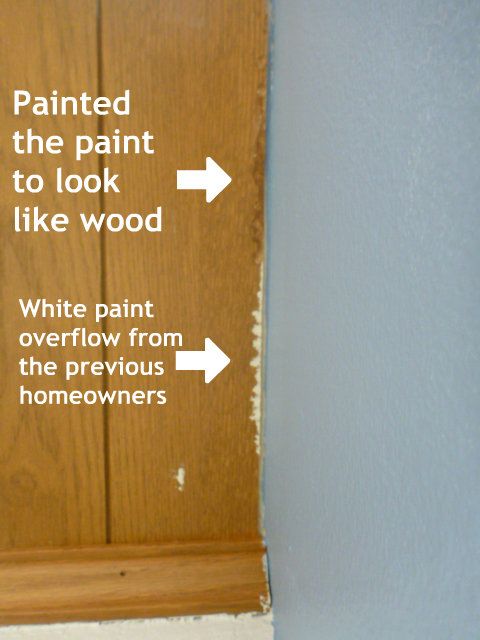 This weekend my mom and I began the long task of painting ALL the trim in the house. The previous homeowners painted it to match each room, and lets just say it doesn't match our style...
My Dad taught Ben how to build closet shelves. So sweet Ben went around and built a second shelf in each of the closets for me! Yay more storage!!!
We probably won't need that much storage, but why waste the space? It is MUCH easier to put these in now while the house is empty, than try to do it in 5 or so years when we have kids and all the stuff that comes along with them...
Last night we continued with the trim painting, even Lucy got in on the action!
Can you tell that Ben is getting into his delirious painting mode? I had him painting till 10:30 last night! Hopefully tonight we won't stay so late...
We feel so blessed to have a bought a house that was considered "move in ready." We've been working on it for 2 weeks, I can't imagine how long it would take to prepare a house that was not ready!